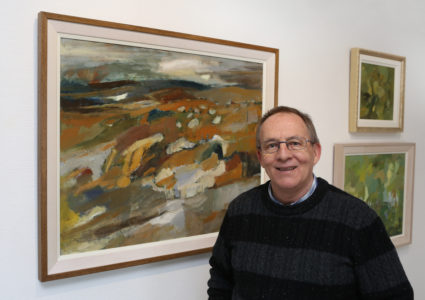 Works by award winning painter Russell Hollings will grace the walls of the Monterey Art Gallery this month.
The exhibition, 'An Artist's Journey' will feature past and present works from Hollings landscape and abstract collections.
The figurative painter strives to capture the mood and atmosphere of a single moment, completing his paintings from intense observation in one sitting.
"Light is constantly changing, so I look for immediate response of something, the way the light is falling on an object, the tonality, the shapes, the forms. If you spend too long on it, as the light alters you lose that moment," says Hollings.
"I paint my immediate environment, pulling together the whole composition to create something beautiful."
His paintings are produced in 'plein air' or in his studio from sketches or drawings and from his memory and imagination.
Hollings says that on average he spends no more than two hours on a 'plein air' painting, and for those that take longer he returns on another day at the same time with similar lighting to not lose the essence of the moment.
The artist spent his childhood in Papakura where he joined the local art group, and spent hours exploring the South Auckland landscape, from which he drew inspiration.
The mainly self-taught artist says his most invaluable guidance came from Ida Else OBE where he learnt about tonal values, composition and how to mix and apply colours to any surface.
Drawing inspiration from a number of artists, Hollings says his success and skill can be attributed to the dedication and time he puts into painting.
"Being a good painter is not going to come by painting once month on a Sunday afternoon," he says. "It's about fitting life around painting… painting needs to always be a priority."
In his 50 year painting career, Hollings has showcased his work worldwide, receiving praise for his ability to capture the same scene in changing light in a truthful way.
'An Artist's Journey' by Russell Hollings will be showing at the Monterey Art Gallery until August 25.