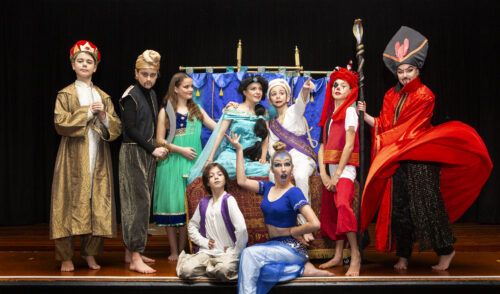 THIS PRODUCTION WILL BE DELAYED DUE TO THE COVID-19 LOCKDOWN.
Howick Intermediate is showcasing a family-friendly and fun-filled production of Aladdin this week.
Ruth Hickton, specialist teacher for performing arts, told the Times that there are two separate casts for different nights to give as many opportunities to students as possible.
There are around 200 students involved in the production.
Rylee Barrett is starring as Genie A, one of the 12 key characters: an out-there, in-your-face and flamboyant individual. "I like that I can hold my ground," she says, when speaking of what she enjoys about the character.
"I'm in disbelief that we are this close to opening night."
Annalee Killip plays Jasmine. "She's got an attitude," she says. "She's very curious about the world."
Amelie Leader is embracing the role of Aladdin.
"Aladdin works smart, not hard," she says. "He's very cunning."
There is a mixture of excitement and nervousness.
"I'm both," Annalee says. "But we're prepared!"
The dedication and passion for their craft is palpable. Additionally, with the hard work and commitment put into rehearsals and practising, the students have forged tight-knit friendships.
"We have the chemistry to bring the production to life!"
The combination of dancing, singing and acting in an enjoyable and classic rendition of Aladdin with a hint of romance guarantees a great night out.
If this isn't tempting enough, there will be a sausage sizzle, waffles and a coffee van.
Deputy principal Michelle Hewlett says everyone worked extremely hard.
"I would also like to thank Ruth Hickton and Leanne Johnson. This couldn't have been done without them."
Tickets are on sale from 10.45am-11.15am at Howick Intermediate or contact the school for online booking.
The production nights are:
Wednesday August 18, 7 pm
Thursday August 19, 7 pm
Friday August 20, 7 pm