Refugees are vulnerable. Unlike immigrants they are "forcibly displaced" to another country, says Millard Rashidi, A Year 13 student at Ormiston Senior College.
Millard arrived from Afghanistan under refugee status three years ago.
As part of Lion's Foundation Young Enterprise Scheme, where students demonstrate a sharp sense of enterprise, Millard formed a company called Atawhai (meaning kindness in Maori). He and five other students highlighted the struggles of a refugee in a children's book.
The multicultural group is keen to make a difference by publishing an illustrated book titled  Ali's First Day at School.
The team sold 60 copies in the first two days of publication and claimed second place at the  Dragon's Den.
They were funded $4000 from the Ministry of Youth Development. Now Millard has been invited to a UN conference in September to talk about his journey of seeking refuge in a new country.
"There is a lack of understanding and a high rate of bullying as refugees get victimised. Back home in Afghanistan we dress differently, speak very basic English, have no technology and eat food with our hands," says Millard, CEO of Atawhai.
"The central character of our book Ali is very confused about everything on the first day at School," says the 18-year-old.
"He is invited to play footy and wonders why the ball is so odd-shaped. He thinks he is playing football and gets startled when he's tackled on the field.  As he is lying flat on the ground, Matthew steps in and helps Ali get back on his feet. Later he shows him around the school. The message in the book is about being kind to one another."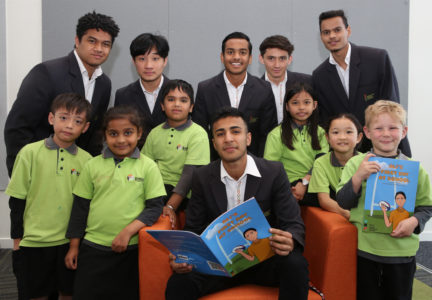 Millard says that unlike Ali, he didn't have people help him. And at the launch of the book when he asked other primary school students to define a refugee, a young student said, "they are uninvited guests to our country".
"She may have heard it from a grown-up at home and it would be sad if she grew up with that mentality," he says, "Which is why we worked on a book that is not about aliens but real-life experiences."
Hujat Mirzayi, also an Afghani, admits he was extremely confused when he first joined the college.
"Our accent is very different and all I said was `Yes' because that was the only word I knew," he says.
"I couldn't find my way around college and it was only when our learning advisor introduced me to two other Afghani boys that I was relieved that someone would understand me."
Krishan Reddy, marketing director of the project, says the plan is to work on an animated version with subtitles in different languages.
"Refugees face similar experiences in different parts of the world and we hope to sell this book overseas," he says.