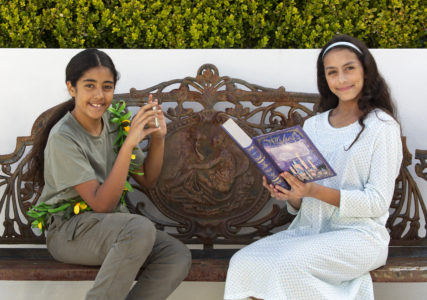 Keeping the spark alive as life came to a standstill during lockdown is the National Youth Theatre's (NYT) new virtual production Wendy (in a Bubble.)
While at various levels of lockdown, the creative team has been busy making history by creating NYT's first ever online production from over 50 bubbles across New Zealand.
For Saint Kentigern College student Azul Hania, this is the first major role that she is playing of Wendy.
The 13-year-old who has been a part of NYT's grand productions Annie and Shrek is thrilled to have recorded the scenes herself on video.
Her 10-year-old sister Valentina is also a part of the production, playing the role of a Lost Boy as well as a Mermaid.
Their mum Carla says it's both challenging and exciting for them.
"Something like this has never been done before. Kids are so good with technology these days. I was amazed how they were recording their singing and acting parts with the required background and sending it to the talented people at NYT for editing."
Shirley Sequiera, marketing manager at NYT says that in 2017 they produced a new musical, Peter Pan at the Aotea Centre.
"It was completely written and composed by our own James Doy and Jonathan Alver.
"In the musical, Wendy takes centre stage as she charts a path in Neverland from youthful innocence to changing the world alongside the adored characters of Peter Pan, Tinkerbell, Captain Hook and the Lost Boys."
She says that the home-made musical film is an exciting opportunity to create an adaptation of Alver and Doy's original musical with a new title and a physical distancing twist. The on-screen dance numbers are a highlight and include the use of NZ Sign Language to enhance storytelling.
"A storytelling, performance experience like no other, the programme culminates in an edited production to be streamed through Auckland Live's own social media platforms."
The premiere of Wendy (in a Bubble) is on Saturday, September 26 at the Concert Chambers, Auckland Town Hall and is only for the cast and their guest (due to limited numbers in Level 2.5 or Level 2).
Public viewing will be streamed through Auckland Live and people can donate to support the charity National Youth Theatre via the link https://nyt.nz/changing_lives