It feels a bit ironic to be writing about summer pest control while the rain beats out its primal rhythm on my tin roof – but that's Auckland for you!
Up until this rain hit we were flat out with two, and sometimes three, rabbit jobs a night.
Hundreds of rabbit burrows have been fumigated and I cleared a mammoth wasp nest up a cliff at Mahurangi a couple of days ago.
Everything that generally does well in summer has been quite slow to kick off this year but, boy, it has come on in a hurry now. Last week I was called to an impeccably kept 10 acres at Te Hihi. "Just three burrows under the house," the owner informed me as I looked at the evidence of 50 plus rabbits across his lawn.
Head torch on, shovel and fumigant trailing behind I dragged myself under the building. I could see the three he had mentioned straight away – huge, fresh piles of dirt beside each excavation and the unmistakeable smell of bunnies was fighting with ancient dust to be the first to clog my nasal passages.
However, looking toward the back of the house I could see more fresh dirt in the very low crawl space. Oh joy – it's a good thing I'm seriously claustrophobic because it helped take my mind off the fact that I was about to start using fumigant in a very confined space. I really must have been so very bad in a past-life!
In the end I found, and fumigated, 15 massive rabbit holes, all in-use and so established that I was falling through the ground in some places. Another year of that and they could very well have undermined the pilings of the house.
I went on to shoot just 14 after dark and the owner tells me he hasn't seen a bunny since. What's more, the family dog is now lying around looking dejected without
strange noises under the house to bark at.
It seems as though every rabbit on that 10 acres was living right under the lounge! We are now starting to receive regular wasp calls and the one at Mahurangi was the first monster of the season. Mahurangi Regional Park, north of Auckland is an absolute cracker of a spot so I jumped at the chance to spend three hours in traffic to climb a ladder up a cliff and tackle a huge German wasp nest.
It had become so big that the swarm was starting to build satellite nests around it – obviously not the best thing for public safety at one of our most beautiful parks.
My trusty Land Cruiser struggled in deep, soft sand out to the nest as my not so trustworthy Junior Ranger did his best to direct me further into the soft stuff. The nest was around three metres all up and I figure there were up to 500,000 wasps living there. They sure didn't like me breaking up their home.
So, very long, hot drive, nearly stuck on the tide line, up a ladder being attacked by half a million wasps – best job in the world bar none!
Yes, the summer season is in full swing and I say bring it on!
By Ditch Keeling, Coastal Pest Solutions for Rural Living
---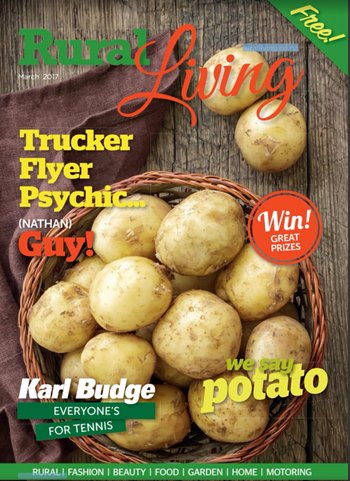 Rural Living is an independent, locally-owned lifestyle magazine for Franklin residents.

It is produced by a small, local team who are passionate about creating a positive and sometimes unorthodox publication which celebrates people, businesses and the 'goings on' in our little piece of rural paradise, the greater Franklin region.
It is your local magazine that connects rural and urban people and celebrates LIVING in our beautiful RURAL community.