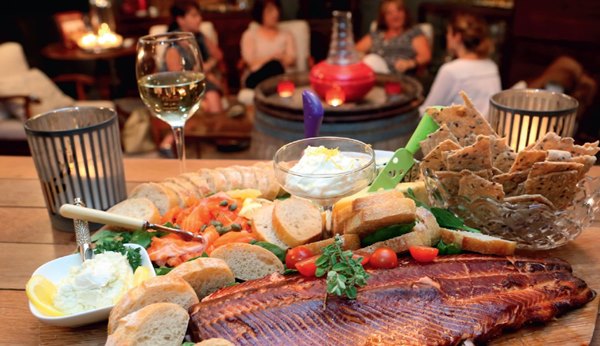 Everyone deserves a night off – no cooking, no dishes. Now, ingenious Howick function venue, The Lounge – talk of the town for its vintage furnishings and novel old world ambience – is making 'your night off' extra special.
Yes, the doors have been thrown open to the public for dining on Wednesday nights – Your Night Off – and again on Thursday nights for A Platter and A Chatter!
Owners, Tony and Christine Bull, first showed their innovation and a desire to step outside the square when they opened The Lounge in 2013.  "Since then we've had so many people say they would love a chance to enjoy The Lounge without having to be party to a private celebration. The idea of extending our service to them appealed and subsequently we came up with the idea of two public nights," Chris says.
"On Wednesday evenings we offer a three-course, rustic dining experience for just $35 per person. The menu changes weekly with the aim to serve meals that are a bit out of the ordinary. However, bookings are essential because catering is so personalised."
Chris is hopeful that if guests unexpectedly bump into friends, they will feel comfortable drawing up a table together and with the addition of a little live music, she's confidant this inner sanctum, which steps back in time, will appeal as much for casual dining as it does for special occasions.
And, since the first dinner night in February, patrons have, indeed, enjoyed the laid back atmosphere – "we've even had some provide impromptu cameos on the piano or the drums – they have obviously felt at home and that's what we were hoping for," says Chris.
On Thursday nights, the A Platter and A Chatter idea is even more relaxed – local folk just drop in and bring their friends too.  "We offer the likes of delicious barrel-smoked, fresh salmon, lavosh, vegetarian spreads, cheeses and a selection of skewers for just $15 per person.
"Some want to kick back in the bar, dubbed the Bull's Den, and we take the platters there where it's totally informal, but others will opt to sit in the dining room and that's okay too."
For those who until now have known little about The Lounge, this new dining move is a real chance to experience a unique venue which has reaped plenty of praise.
It's fully licensed, and hours for Wednesday and Thursday evenings are 6pm until 10pm.
Eastlife March 2017
---
EastLife is an independent, locally-owned lifestyle magazine covering Auckland's east.
It is produced by a small, local team passionate about creating a positive publication which celebrates people, businesses and the 'goings on' in our little piece of paradise between the shores of the Tamaki Estuary and the beaches of Beachlands and Maraetai.
It is your local magazine – stimulating and selective, EastLife connects with our local community.