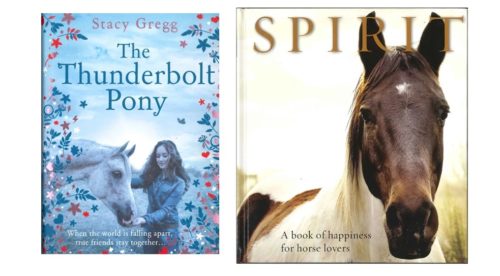 The Thunderbolt Pony by Stacy Gregg
Harper Collins Publishers
Twelve-year-old Evie's got so much to deal with. First came her dad's cancer, and then the OCD that dominated her life. Now a devastating earthquake has shaken apart her world. When the evacuation starts, Evie refuses to leave her pony, Gus, behind. She embarks on an impossible journey overland to reach the rescue ship with her beloved pets. But she's running out of time.
Spirit: A book of happiness for horse lovers
Exisle Publishing
Horses are the epitome of grace, power, and freedom. They also have the ability to touch our souls and connect with our hearts in a way that few other animals can. Spirit: A book of happiness for horse lovers is a compendium of enduring quotes that capture the essence of our affection for these magnificent creatures.
We have a copy of The Thunderbolt, and Spririt to give away
To enter simply fill out the form below
Entries close November 8, 2018.